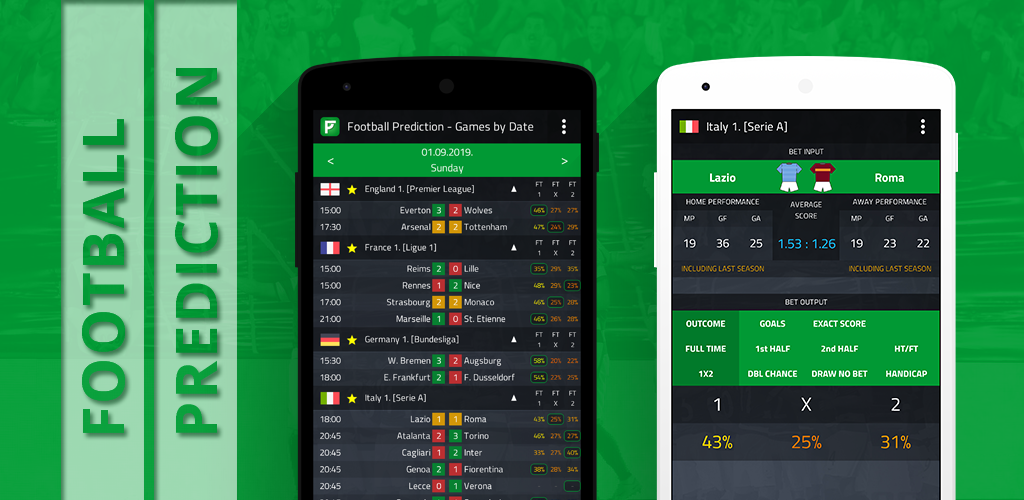 Football Prediction
Predict the outcome of football (soccer) matches.
Statistical prediction is a method used in sports betting, to predict the outcome of matches by means of statistical tools and using complex math formulas. Who doesn't want to predict the result of a football (soccer) match? The best way to make a prognosis is to estimate the probability of the outcome. You cannot work out the probability of winning a football match by assuming that win, lose and draw are equally likely, but you can look at previous results in similar matches and use these results to estimate the probability of winning. The goal of this application is to calculate 'true' odds based on mathematics that will be more suitable. You can use these predictions, but should not be surprised if the outcome is just the opposite of the prediction.
This application can be useful in calculating odds for the following
world football leagues
:
A League Australian Football
Bundesliga
English Football League Championship
Eredivisie
Indian League
International Football
La Liga
League One
League Two
Ligue 1
MLS
North American Soccer League
Portuguese Liga
Premier League
Primera División Argentina
Russian Premier League
Scottish Premiership
Segunda División
Serie A
Superleague Greece
UEFA Champions League
UEFA Europa League
IMPORTANT NOTE:
This application doesn't encourage sports betting, it is intended for informational and entertainment purposes only!
FOOTBALL PREDICTION

THUMBS UP

This is one of the best app I have ever seen and used. Infact you guys are doing a great job, please keep it up.

FOOTBALL PREDICTION

I AM MY OWN BOSS

This app is one hell of a help to a tipster. With this app I got 40 predictions correct out of 42. I have no regrets buying it. It's indeed a wonderful application.

FOOTBALL PREDICTION

GREATEST N MIGHTIEST

What a life changing app. More grace to the elbows of those that came up with this app. You are all super n you got me feeling like a tipster. ;)

FOOTBALL PREDICTION

AWESOME PREDICTOR

Excellent and defined more than other similar applications. Thanks so much for this. Recommended.